WE'RE PROFESSIONAL, HONEST, COMPETENT AND MOTIVATED TO PROVIDED YOU THE BEST VALUE AVAILABLE
OUR PROJECT LEADERS ARE MATURE, STABLE, PROFESSIONALS.
We require a minimum of 20 years experience in general home repair, maintenance and improvement. Most of our team members are homeowners themselves!
WE ARE INSURED AND REGISTERED.
We comply with all know city and state codes, and carry all the appropriate insurance and state licenses as are currently required. It is important to note that Texas now requires all contractors performing remodeling and new-construction to carry a license with the TRCC.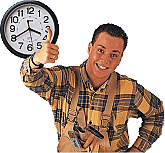 WE RESPOND.
We keep our appointments and stay on the job until it is completed. We have never walked off a job as is so prevalent in the industry today.
WE GUARANTEE RESULTS.
We have the following guarantee for our work:
Remodeling and renovation projects carry a full 2 year warranty
New construction carries a full 3 year warranty on all components, any specific component warranties related to appliances, etc. are maintained and a structural 10 year warranty on all concrete work is provided. We only build to engineered slab designs, exceed most city code requirements as to standard beam widths and steel requirements.